We all are aware of the power that social media has. Why not utilize this power to boast the WordPress websites? Social media is indeed a means of generating organic traffic, giving better exposure, and increasing user engagement. In this blog, we are discussing 13 social media plugins free and paid for WordPress.
Having these social media icons on the webpage allows sharing of work. Let's give a quick read to the types of WordPress social media plugins; paid and free plugins.
Functionality of Social Media Plugins
Before installing the relevant social media plugin, it is better to know what kind of social media plugin do you need. Here are some of the key functionalities and benefits of having social media plugins.
Social Locking Tool: It helps to restrict the content on your website. To gain the access to the content, the user will need to exchange something in return like a follow or a social share.
Social Sharing: It improves the online exposure of the user in order to provide them the information to the relevant queries and allow to share. Through this, you can get more followers.
Login Page: This ensures more security for your website as it will keep the identity saved for the user and also offer conveniences to the customers by not asking for sign up separately.
Links with Social Icons: The social icons with links attached indicates the business pages of your websites. It redirects the user to your social pages to get the social following.
Social Feed: The social feed includes Facebook, Instagram or Twitter feeds of your website adding more visuals to give a hint to the users about your social page.
Without any further due, let's jump to the social plugins for your WordPress Website.
13 Social Media Plugins Free and Paid for WordPress Includes
Free Plugins
1. Custom Share Button with Floating Sidebar

Another free WordPress plugin for social sharing is Custom Share Buttons with Floating Sidebar. For a distinctive design, this plugin has appealing choices for creating and customizing share buttons.
Why Custom Share Button
Light in weight plugin so it does not affect the speed of the website
It offers an option to disable the sidebar on your mobile
The user can custom image, the position of the button, background-color option
Editing message–the user can show or hide buttons
It supports 9 social networking websites including Reddit, Pinterest, etc. with easy promoting of website
The user can add a message alongside the sharing button.
Gives the user the option to decide where to paste it whether at the bottom/top or on the floating
Downsides
It does not display the share counter
The responsive floating sidebar option is available on the premium version
2. JetPack

Jetpack is specially designed by WordPress experts to offer fast speed for the website along with the social sharing of your content.
Why JetPack
Assists to get to know the audience better
Fast and light in weight plugin
It automatically publishes posts on the Social media accounts
Ads friendly and offers SEO tools
It allows the publishing of blogs and other posts on the largest social media platforms like Facebook, Twitter, LinkedIn, Instagram feeds, etc.
This plugin helps to increase the traffic of your website along with security, marketing as well as performance, etc.
Downsides
The interface might look bloated and makes it tricky to locate the required module.
In some cases, it might affect the speed of the website.
3. Social Pug

This social media plugin is developed by DevPups, helping the user to build the email listing.
Why Social Pug
It is a fast and lightweight social media plugin
This plugin has a unique and a modern design UI and icon
Displays the social sharing count with the icon
The user can add it to different positions like floating and inline
Downsides
Some of the versatile functions are only offered for Premium Version like link shortening, UTM, etc.
4. Sumo Social App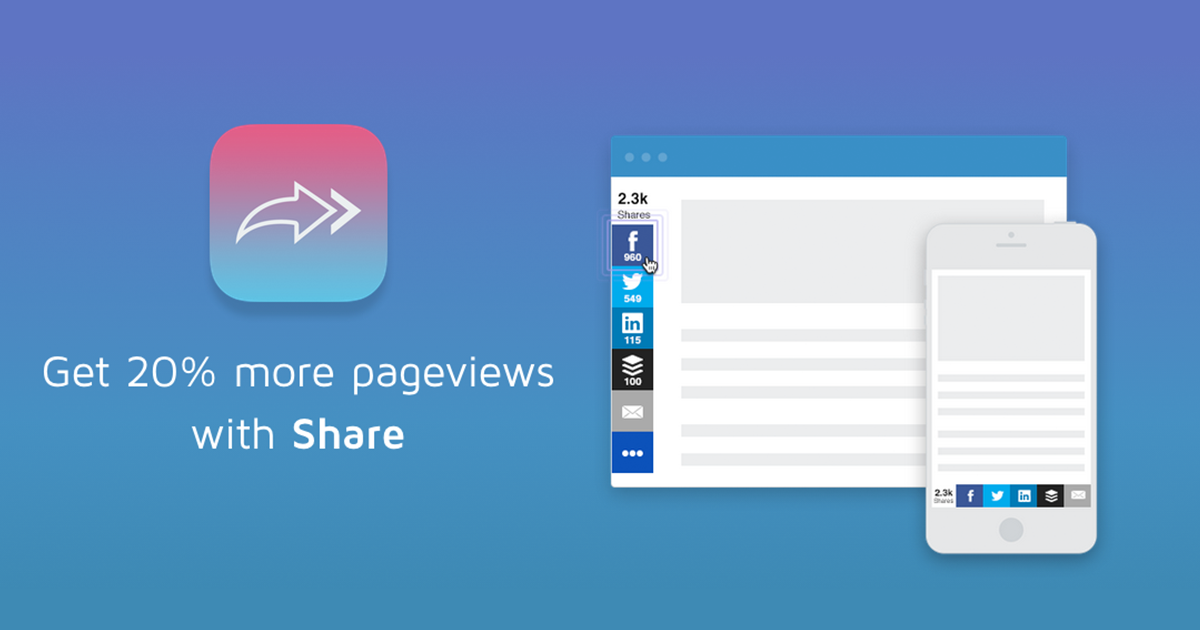 This plugin is popular for blogging and eCommerce as it offers a reliable and free suite of marketing.  tools. It also adds email marketing too.
Why Sumo Social App
The social button pops up next to the content with a lot more options for social sharing websites.
Sumo social app is basic and free.
It highlights the most effective sharing button.
The suite it offers includes email marking, quote highlights, and analytics.
Downside
Unless you upgrade to the pro versions, the user will be stuck with the Sumo branding.
The free version does not have mobile preferences.
5. Shareaholic

Another WordPress plugin on which you can count. It includes a variety of site interaction features like Related posts, follow button, cookie consent, analytics, etc.
Why Shareaholic
It has little effect on page load time: tests show that it adds only 14 milliseconds to load time.
There are over 100 social connectors available for free, including WeChat and WhatsApp.
Pinterest has its own set of sophisticated settings.
Technology Partner for Google Analytics.
The recovery of the Social Share Count.
It offers monetization settings are optional.
Downsides
For WordPress newbies, the large number of functions and options accessible might be intimidating.
6. Social Lockers

This social media plugin offers safety to the user by asking them to complete the certain social task to get access to the content.
Why Social Locker
This is a fantastic strategy to increase your social shares and followers.
It has some incredible 3D effects.
Because they're folks who are interested in the concealed information, you acquire high-quality admirers.
The plugin works with a variety of social media platforms, including Facebook, Twitter, and YouTube.
Downside
This type of content lockout allows users to easily follow you, get the material, and then unfollow you right away.
Note: The free plugins offers some of the features without any cost however, certain features are limited but you can get them by spending some bucks.
Paid Plugins
7. Easy Social Sharing

This social sharing plugin is a simple yet powerful plug-in for WordPress that costs only $19.
Why Easy Social Sharing
Responsive sharing buttons
A variety of designs for buttons
4 different icons layout along with 7 designs
Simple user interface and easy dashboard setting
It does not compromise the speed of the website
Easy social sharing allows the user to link media profiles
Adds shareable quotes to your page
It suits beginners as well as experts
Helps in reviewing content would be best by analyzing the social analytics and metrics.
Downsides
Setting this plugin could be tricky compared to other social plugins
8. Novashare

This is another light in weight social sharing paid plugin for WordPress that costs $29.95 for a single license.
Why Novashare
This plugin is only 5 KB in size on the frontend and does not use third party libraries
Social accounts like Buffer, Facebook, Twitter, Pinterest along with 15+ more websites are included.
It offers easy access by adding a shortcode and where would you like to share the post
This plugin has an easy UI, making the configuration settings easy to start
Further, it has a unique technique for updating share numbers depending on the modification date of your content.
Downsides
Novashare is a premium plugin so, it does not offer any free or trial version.
It does not offer advanced options like other social sharing plugins.
9. Social Media Share Button

This social add-on costs $25 for the starting package as it offers add-ons like Google Analytics, Mashshare pageviews, open graph, short URL integrations, and many more.
Why Social Media Share Button
The only plugin that offers add-ons in the package.
It offers fast and quick delivery of buttons with its built-in features.
For advanced development, it provides actions and filters.
With the help of the short URL feature of this plugin, the user can place the social media button anywhere on the web page.
Downsides
Sharing buttons are limited. You might have to pay some additional costs for getting the add-ons.
There are many settings for the configuration of the plugin that could be tricky for beginners.
10. Instagram Feed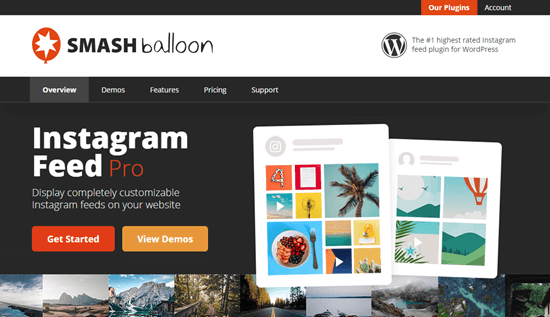 One of the most authentic mediums for social sharing is Instagram. This plugin helps to share the post in the New feeds. It will cost you $39 only when the user wants to add a photo lightbox, hashtag filtering, etc.
Why Instagram Feed
The ideal plugin for adding images to the website in order to get more followers.
It is customizable for the initial settings including width and height, background color, line spacing, etc.
A button is added at the bottom 'Follow on Instagram'.
The files like CSS or JavaScript can be customized.
It allows the user to add a header at the top.
Downsides
The captions of photos are only visible with the pro version. The free version will only be like an image gallery.
It does not support any other social networking site.
Compared to the other social plugins, it has a long setting page that will be time taking and complex.
11. Social Warfare
 
This plugin is powered by a Warfare company, simplifying the social sharing needs. One of the key reasons that user appreciates due to its attractive buttons.  The pricing for this plugin begins at $29 per year.
Why Social Warfare
This plugin loads three scripts only that are below 10 kb. That means it does not compromise the website speed.
Over 5,000 design variations are available in the plugin, making it very customizable and ideal for branding your social buttons.
Shortcodes are included with the plugin to allow you to place sharing buttons.
Allows the user to directly upload the image from Pinterest.
It has a content protection module that secures users' own social call to action. This limits the users from editing content in social media posts such as Facebook and Twitter.
Downside
It requires an annual recurring payment.
This plugin displays the sharing count only when the minimum threshold is achieved.
12. Revive Old Post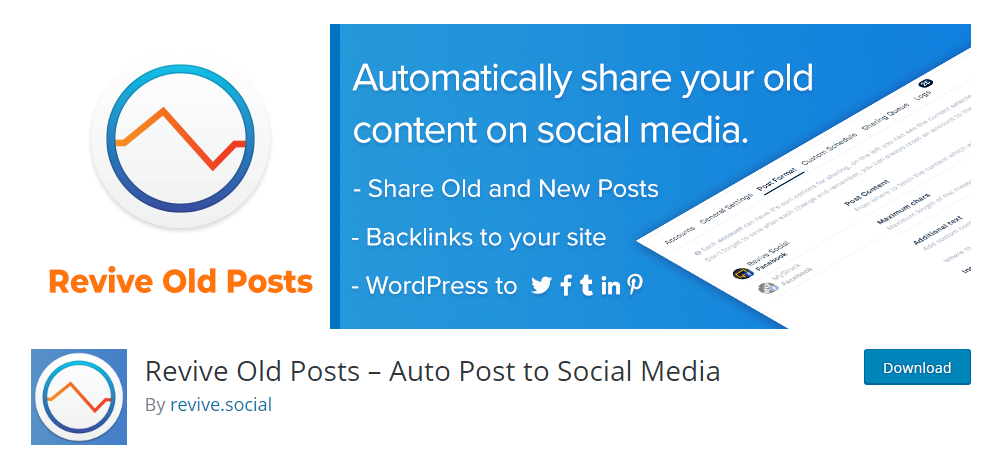 Through this plugin, the user can share old content too. The price range for this plugin starts from $75 annually and goes to $399. The user can get a free version for it too but it offers limited features only.
Why Revive Old Post
It keeps the old blog posts current while also supplying material for your social media platforms on a regular basis.
At the same moment, the user can share numerous posts.
It offers to create a schedule for posting the content with the number of posts every week.
It provides an automated way for the social engagement of the followers.
Downsides
It is a bit costly.
The free version offers limited features.
No built-in URL shortener.
13. WordPress Social Share, Social Login and Social Comments

The WordPress Social Share, Social login, and social comment plugin is all in one package for social media. The user gets an option of getting an extra option of add-on modification for $10.
Why WordPress Social Share
This plugin is totally free so the user gets through social modules.
It offers inexpensive add-ons.
this social sharing plugin will provide the user with around 90 social networks along with the buttons.
The user gets setup support.
Downsides
It does not allow linking social accounts and offers sharing buttons only.
The social sharing icon design is not that modern.
So many customized settings on the backend. Could be tricky.
Closing Notes
Social media is an important platform to draw attention to your website. In this blog article, we have mentioned key features of the 13 best social media plugins paid and free for your WordPress website. Apart from that, if you are facing any problem with your website, WPPlease.com is an authentic source from where you can get assistance and get your issue rectified.