WooCommerce is the best ECommerce plugin you can install in your WordPress. You can start selling by setting WooCommerce within 1-2 minutes.
What is ECommerce?
ECommerce in a sense is similar to a traditional physical shop, but it has many different features. There are many ECommerce plugins but the most famous one's are Shopify & WooCommerce. According to WordPress plugin repository, WooCommerce alone has an active installation of 5Million.
This means, there are 5Million ECommerce shops already working and generating revenue.
How should you use WooCommerce in WordPress?
Installing WooCommerce in WordPress is very simple. All you need to do is 3 Steps
Step 1: Go to WordPress->Plugins->Add New Plugin
Step 2: Search "WooCommerce" and you will get the first result that will be showing like this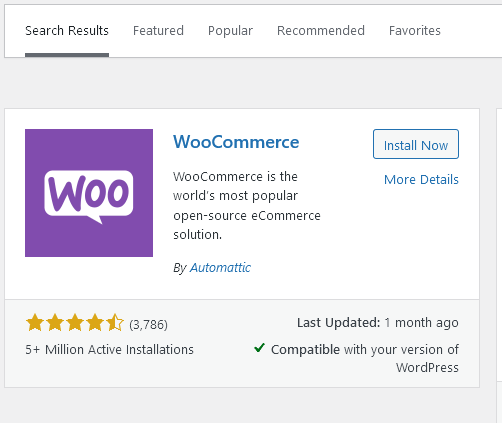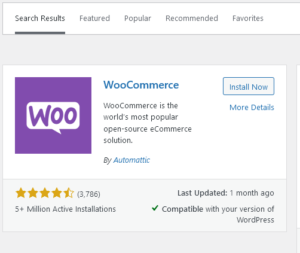 Step 3: Click "Install Now".
Step 4: After it's installed then click "Activate".
Also once you activate the WooCoomerce, you can follow this Easy 5 Steps guide to speed up your ECommerce Store, or Buy WP Please Service and we can optimize your site like blazing fast.
The plugins that will power up your WooCoomerce ECommerce Site.
1. Yoast SEO & Yoast WooCommerce SEO
Like every physical store, you need to market your Online ECommerce Store as well. And the best way is by doing Search Engine Optimization (SEO). Yoast SEO has been in the industry for more than a decade. Setting up plugin is very simple. Just install it and follow the setup wizard. They also has a plugin which can improve search rankings of your ecommerce store.
2. OptinMonster
OptinMonster now comes as pre-installed plugin. It helps you create popups & customer conversation forms. The interface is very simple and user friendly.
3. WP Mail SMTP
Sending emails out of your WordPress is the key of running a successfull business. Many times, these emails find their way to the user SPAM or trash bin. WP Mail SMTP has integrated many email services like sendgrid. Which ensures, your transactional or general notifications get delivered to the user Inbox, right where they want to see.
4. LiveChat
Having a chat features in your website, gives your customers a trust & fast service. LiveChat has a plugin which you can just install and start your customer chat service in no time.
5. Facebook for WooCommerce
Facebook has a very detailed and conversation optimized Ads. With their official Facebook for WooCommerce Plugin, you can setup event tracking and pixel code. You can even define which events or button clicks you want to tag as Leads, PageViews or Purchases.
6. MonsterInsights
Understanding customer behavior is as important as starting an online business. Google Analytics, helps you track and understand how much traffic you are getting. It also depicts what parts of your website you can improve, so that you can gain more customer base and grow your business. MonsterInsights created an integration with Google Analytics, so you can view all those analytics stats right from your WordPress dashboard.
P.S. If you every encounter Database Error in WordPress, you can follow this guide which will resolve your database connection problem. Or Subscribe to WP Please Monthly Subscription Package, and we'll handle the rest.